Dental Implants and Mini-implants
Dental Implants Sydney Service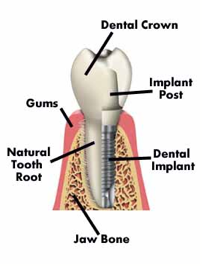 Missing teeth and loose dentures make too many people sit on the sidelines and let life pass them by.
However, today's modern dentistry can replace everything from a single missing tooth to a completely missing arch! Dental implants are cosmetic dentistry but more importantly they let you chew confidently again.
If you are interested in attending an Implant Open Day, please email
What is a Dental Implant? and what can they be used for?
Modern dental implants are precision devices, available in several different designs to address your specific needs and desires. The most common type is a titanium screw that is anchored into the jaw bone where it serves as a post for a custom- made tooth crown. Once the crown is in place, you may not be able to tell it apart from your natural teeth.
In some cases, instead of artificial tooth, a dental implant can be fitted with special clips or attachments (similar to press studs) to hold a full denture. This allows minimal movement, greater comfort and added confidence. These implants can sometimes be dental mini-implants.
Even though dental implants are a form of cosmetic dentistry, they perform the more important function of allowing the patient to eat comfortably in that area where the tooth was lost.
At Cosmic Smile Dental Sydney the dental implants we use are from BioHorizons, which we consider to be the best implants available. They are unique because they have laser-lok technology built into the implant to ensure the most stable integration with the jaw bone and soft tissue.
For a detailed primer of what is required for the placement of a dental implant in Sydney please read Dental Implants : A Primer For Patients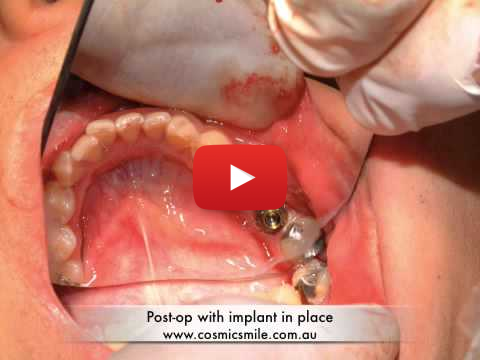 Implant Open Day Showcase | Mini Implant Dentist Sydney (watch video)
Dental Implants:
Help withstand greater bite pressures with dentures.
Prevent bone loss in the jaw (this may reduce the risk of adjacent natural teeth becoming loose.)
Prevent the formation of hollowed or collapsed cheeks that can occur after tooth extraction. Missing teeth cause bone loss in the Jaw.
Are usually surrounded by gum tissue like real teeth.
May prevent gum recession.
Unlike bridges, do not require the cutting and reshaping of neighboring healthy teeth.
Are firmly secured in the Jaw bone.
Add confidence and comfort for full denture wears.
Usually do not require separate care routines or special cleaning procedures- like bridges and dentures.
Like natural teeth, implants are cleaned by dental floss and brushing with regular toothpaste.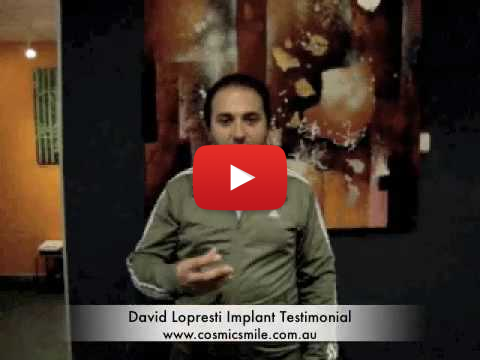 Dental Implant Patient Testimonial (watch video)
Would I be a candidate for a dental implant in Sydney?
We will need to perform diagnostic tests to confirm that you are a suitable candidate for a dental implant and to give you the best treatment options.
These tests may include:
Full dental exam/consult
Photographs
Cone Beam VT scans of your jaw bones
Dental casts of your mouth.
A comprehensive treatment plan will be formulated from the information gained. This gives you realistic understanding of your expectations, the procedure, the costs and time involved for your individual case.
If you are suitable, we place the dental implant in Sydney at our Neutral Bay office. The procedure takes one to two hours based on the complexity and number of dental implants required.
Around the world and in Sydney, dental implants are considered the gold standard for replacing missing teeth. For our reports on dental implants sydney and how they can help you please contact us.