Blog
Why are women everywhere brushing their teeth with charcoal?
I'm no stranger to bizarre health and beauty treatments popping up on my Instagram feed. Girls slathered in coffee bean scrub? Sure. Fitness models sipping detox tea? Yawn. But there's a new health trend that'll stop you in your Instagram-trawling tracks: women, mouth dripping black, brushing their teeth with charcoal.
Legions of women and health and beauty bloggers are posting selfies of their teeth coated in jet-black charcoal, all in pursuit of a natural, pearly white smile. Apparently.
RELATED:The coffee scrub that's an Instagram sensation
But before you head out to the BBQ for some DIY tooth whitening, not all charcoal is created equal. When charcoal is exposed to certain gases, it becomes activated (yes, like almonds).
Activated charcoal is highly absorbent and removes toxins it comes into contact with. It's used in mainstream medicine to expel unwanted chemicals from the body, such as after someone swallows poison and has their stomach pumped.
Admittedly, water filters also use activated charcoal to remove impurities so it's not a far stretch. So far, so good.
New Australian brand Warpaint is leading the forefront of activated charcoal for tooth whitening. Founded in by paramedical aesthetician (aka skincare expert) Petra Konig, Warpaint has amassed a cult social media following and ships to 40 countries around the world. Not bad for a brand that hasn't even turned one. (Post continues after gallery.)
Armed with war paint on Instagram
"Warpaint was created out of my own frustrations," explains Konig.
"We have too many chemical-based teeth whitening products on the market. I wanted a natural product to clean, polish and whiten teeth."
RELATED:THE FIND: The natural deodorant that actually works
Like a handful of activated charcoal products on Etsy and Amazon, Warpaint claims to remove stains, kill bacteria and naturally whiten teeth without chemicals and added nasties. All by simply dipping a wet toothbrush into the fine, odorless and tasteless black dust and brushing it onto teeth in small, gentle circles for two minutes. Spit it out, rinse and you're done. Apparently.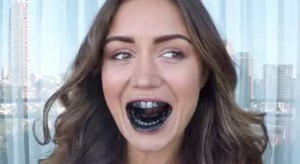 So does this weird alternative whitening treatment actually work?
"It's possible the trend has validity but there is no conclusive scientific evidence," says Dr John Hagiliassis, dental lecturer at University of Melbourne and principal dentist at Freedom Dental.
RELATED:Want a whiter, brighter smile? Here are your options
At most, he believes the dust could wick away surface stains, but it won't go any deeper.
"Activated charcoal is attracted to tannins which are often found in many stain-inducing drinks like wine, coffee and herbal teas," he explains. "Theoretically this may be why activated charcoal also works as a stain remover… but there's really no research to back up the claim."
As for the belief that charcoal might be a safer, natural whitening option, Dr Ramesh Sivabalan of My Dental Team isn't convinced.
"Being natural doesn't mean it will do what it claims to do and it doesn't mean it's good for you either," he says.
What's really concerning about the rise of natural DIY dental products is the potential for misuse. Warpaint advises their product can be used for oil pulling or as a daily toothpaste. "You can even mix with coconut oil into a paste," the website beams.
"These type of remedies are not a replacement for proper dental health practices like flossing, brushing and regular check-ups," says Dr Hagiliassis, who was also concerned about the abrasive nature of some charcoal products. "It could even cause irreversible damage to your tooth enamel if used every day."
Instead, Principal Dentist at Cosmic Smile Dental Jason Pang says to skip the DIY tooth trends and opt for proven methods.
"There has been over 20 years of research to show that the kinds of oxidising agents [found in clinical whitening treatments] are safe. Peroxide breaks down to oxygen and water so it is completely safe."
RELATED:The 4 fancy dental products that aren't worth the money – and 3 that are
If scrubbing your pearly whites with charcoal isn't quite your thing, Pang says there's a simple at-home alternative. "You would likely achieve the same result using smoker's toothpaste which is more abrasive than normal toothpaste and it would be a lot cleaner than charcoal."
"In the end, you get what you pay for," he says. "True whitening relies on removing the internal or intrinsic stains which are deeper in the teeth." And while activated charcoal is having its moment in the social media spotlight, it's yet to be given any real scrutiny by those in the know.
I think I'll stick with a good 'ol fashioned brush and Oral-B 3D White Brilliant Mint toothpaste, thanks!
Have you ever tried to whiten your teeth with activated charcoal?