Blog
Is it Better to Get a Dental Crown or a Filling?
A dental crown procedure is often the best solution to preserve the life of a tooth. If you have a dentist that you've been seeing for a long time then no doubt you will trust their opinion and give then the go ahead. However, if you go to a dentist for the first time and he or she has a cursory look at your teeth and immediately recommends a crown, you should take a deep breath and have the conversation about alternatives.
If you are still not satisfied then leave, do your research and if necessary seek another opinion. Crowns may well be the best option but they are an investment and you should be sure you investigate other tooth restoration options before you spend your money. If you are looking for another opinion then come and see us at Cosmic Smile. We will provide you with honest and professional advice on whether a crown is required.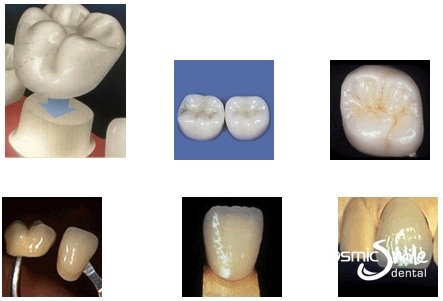 A crown is most commonly used when there is no longer sufficient tooth structure left to place a filling. Generally speaking, crowns are good. They are a tooth-like covering placed over an existing tooth to protect it and to make sure you don't compromise the health of your other teeth and the health of your gums. It strengthens, restores and improves the appearance of a tooth. People often choose a crown to cover a badly discoloured or broken tooth.
Dental crowns last between 5 and 15 years. Their lifespan depends on the amount of wear and tear the crown is exposed to and how much attention you pay to your oral hygiene and diet.
This occurs when you have a cracked tooth. Unlike a broken tooth, a cracked tooth cannot be repaired. In fact in the case of a cracked tooth you may use a crown as a temporary solution. Longer term you may need root canal and then a crown or an extraction. A misdiagnosis might occur if you have craze lines in your teeth. These won't require action but they may appear like a crack. In some cases a long crazed line might be the precursor to a crown. You should double check the diagnosis before you spend the money.
Obviously a filling is suggested if it is not going to dominate the entire tooth. Modern dental fillings are made of much more durable material than old fillings. However, if an old filling is covering about two thirds of your tooth it could be that you will need a crown to keep the tooth. If a new filling is so large it compromises the structure of the tooth then maybe a crown is a better option. An old filling will eventually give up. Of course, with such little tooth remaining it might develop a crack and therefore you will require a crown anyway. It's a decision only you can make but a crown may be the only way to preserve the tooth.
For a good dentist in Sydney call our office on 02 9904 2880 or email info@cosmicsmile.com.au to speak to our friendly staff for more information.