Blog
Choose a Laser Dentist to Treat Gum Disease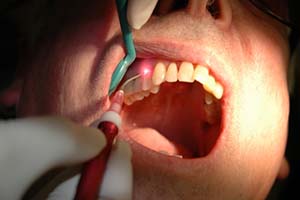 Periodontal or gum disease can be the result of poor oral health, a genetic predisposition or susceptibility, diabetes, smoking and some medications. It's an infection of the gum tissue and bone structure that holds the teeth in place. Gum disease usually affects people in their 30s and 40s and if it is not treated you can lose some, if not all of your teeth. Gum disease is also linked to heart disease and stroke and premature birth.
If you have gum disease and have undergone treatment to clean the surfaces of your teeth and the roots that are hidden beneath your swollen gums, you will know that it's not a very pleasant procedure. Maintenance is the key, but if you have let it slip for any length of time then calculus builds up and you are in for another uncomfortable session in the dentist's chair.
So for sufferers of gum disease, news of a less invasive treatment that eliminates the need for scraping and drilling is reason to let out a big sigh of relief.
Laser treatment for gum disease
Traditional treatment generally reduces the gum tissue so that the teeth are fully exposed. That way, calculus and bacteria can't sneak beneath the gum line and hide in pockets to cause swelling and quietly erode your teeth's structure.
Laser gum disease treatment doesn't work that way. Among the benefits of laser dentistry is that it maintains the level of the gums and stimulates the stem cells in the gum's tissue to form new tissue, bone and collagen which is responsible for the health of the gums.
Bleeding gums
Most people with gum disease have gums that bleed. That's because bacteria is concealed in 'pockets' below the level of the gum. Scraping reduces the calculus and with it some bacteria but it's unlikely to get all of it. Laser removes and kills bacteria and that reduces bleeding in the gums.
Less invasive and bacteria free
When people with gum disease have a regular clean and check up, they receive the same procedure as everybody else. When there are problems with bleeding and the symptoms of gum disease become obvious, the treatment becomes increasingly invasive depending on how far the disease has progressed. Laser treatment is far less invasive than other treatments. Because it sterilises, kills bacteria and works to restore the health of the tissue and bone, it can be viewed as a stand alone treatment. If the disease has progressed to the extent that surgery may be required, then laser periodontal therapy is ideal for post surgical healing and ongoing maintenance.
Cosmic smile dentistry are leaders in Sydney laser dental care. If you have gum disease and you are looking for a non invasive treatment or if you would like to learn more about laser therapy, contact Dr Jason Pang for an obligation free consultation.