Why Choose Us?
13 Reasons why you will love our surgery
We create beautiful, healthy smiles with the highest level of patient care
The dental laser allows us to perform many more procedures with less anaesthetic and even treat snoring with the unique NightLase procedure.
Child friendly practice – toys, videos & TVs on the ceiling to keep you/your child entertained
Sleep dentistry available*
Over 15 years experience
We have the latest equipment and training so that almost all treatment can be done on site
Immediate gap refunds through HICAPS
Easy parking options available
Free WI-FI access
We have a GUILT-FREE office where we don't lecture you
We never do any work without your consent and we will provide a comprehensive written treatment plan
We value your time and will not keep you waiting longer than 10 min or you will receive 10% off!
We GUARANTEE our work!
* provided by visiting anaesthetist on request

Member of:
Australian Dental Association Member (www.ada.org.au)
Australian Society of Implant Dentistry Member (www.asid.org.au)
Australian Association of Laser Dentistry member (AALD)
American Academy of Craniofacial Pain (AACP) Australian Chapter (www.aacp.com.au)

Reviews on other websites
Google Reviews – http://bit.ly/zDAn3S
Word of Mouth Online – http://www.womo.com.au/reviews/Cosmic-Smile-Dental-Neutral-Bay
Your First Visit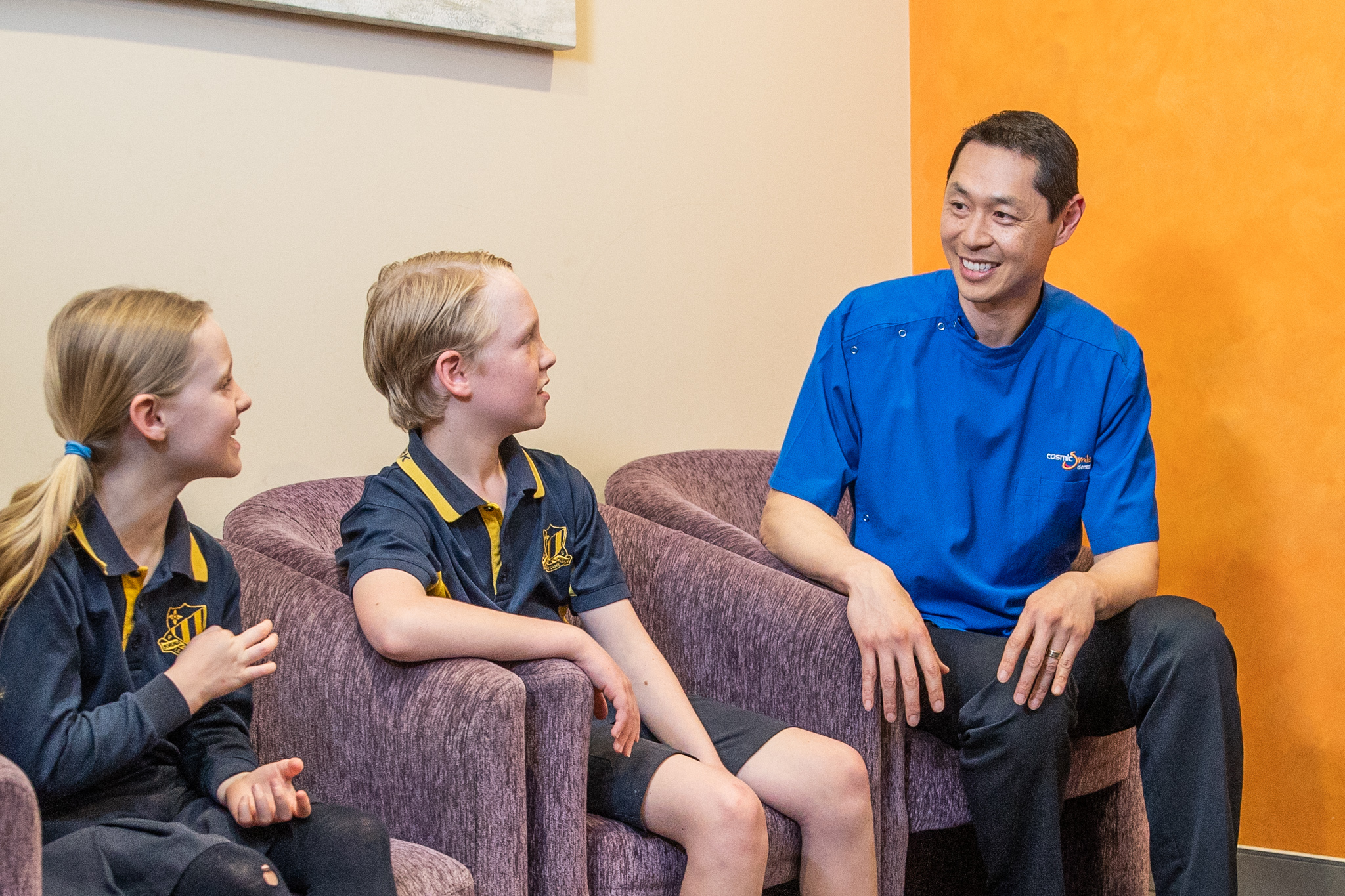 When you come in the caring staff will treat you like a member of the family. You'll experience a personalised service where you can sit back, relax and feel special.
Walk further in and you'll find light filled treatment rooms with cutting edge dental equipment from the intraoral camera, to the digital x-rays (both intraoral and OPG) to the virtual reality glasses.
If you feel anxious about dental treatment, you are just like many of our existing patients. Our fear reduction program includes: Big time TLC, relaxing nitrous oxide gas, emphasis on painless, gentle shots and very numb teeth. We also have Penthrox for you if you need a little extra help. And for those that are very anxious we have a qualified anaesthetist that will relax you intravenously so that you will have no memory of the treatment you had.
Now with the Versawave dental laser we can gently perform a variety of dental procedures on teeth, gum and bone. Many procedures performed with the laser do not require injections, reducing patient fear and anxiety and creating a more gentle and relaxing dental experience.
Patients typically have less bleeding, swelling and post-op discomfort, and require less pain medication. Procedures that once took several appointments to complete, such as restorations in multiple quadrants, can now be finished in just one visit.
Dr. Pang has extensive certification and expertise for treatments such as Root Canal Therapy, Cosmetic Veneers, Crowns and Bridges, Implants & mini-implants, Invisalign – Invisible braces, ZOOM One-Hour Whitening, Partials & Dentures, Sleep Apnoea devices and more so that you can have virtually all phases of your dentistry done under one roof without seeing a specialist.
As a patient of Cosmic Smile Dental you will be comfortable, relaxed and know that you're being treated by a dentist that uses the latest techniques and treatments to recapture your dental health and well-being. You will enjoy a long standing, friendly, personalised service based on trust. We look forward to caring for you.